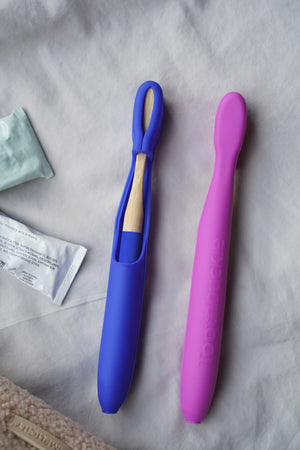 Toothbuckle
Santorini Sky | Mixed Bundle | Toothbrush Covers + Bamboo Toothbrushes
Sale price Price £27.00 Regular price Unit price / per
Tax included.
Santorini Sky's Mixed Bundle of Toothbrush Covers + Bamboo Toothbrushes make a perfect pair for maximum dental hygiene.
Enjoy greater peace of mind knowing that our Toothbuckle cover protects your bristles from airborne germs, toilet spray and cross-contamination.
Our covers securely lock onto the entire toothbrush, ensuring that it is neither too dry nor too wet!
Natural silver offers even more antibacterial protection, giving you a healthier, safer brushing experience.
Get your own sustainable toothbrush cover today!

Four pack includes - Two pink + two blue Toothbuckle toothbrush covers. 
Six pack includes - Three pink + three blue  Toothbuckle toothbrush covers. 
All bundles include matching toothbrushes  
£27 four pack bundle 
 £41 six pack bundle