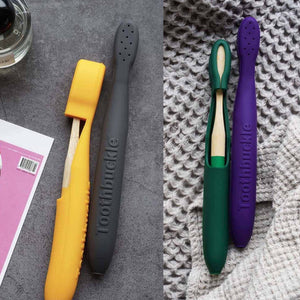 Toothbuckle
Adult Iconic & Rainforest | Mixed Bundle | Four Bamboo Toothbrush+ Four Toothbrush Covers
Sale price Price $30.00 Regular price Unit price / per
Experience perfect protection and a feel-good finish with the Iconic Rainforest Mixed Bundle!
Our four silicone toothbrush covers prevent the cross-contamination of germs, while the natural silver provides additional antibacterial protection.
Plus, our vegan sustainable toothbrushes feature a secure lock and a ventilated cover to keep your toothbrush dry.
Clean and confident - that's the Toothbuckle promise!
Soft to firm recyclable caster bean bristles, perfect for effective cleaning, certified FSC raw Mao materials, ethically sourced FSC bamboo handles, and non-toxic water-based paint. 

Suitable from 12 years - Adult 
Vegan Certification Bamboo Toothbrushes 
£27 
Bundles includes - one yellow + one grey + one green + one purple toothbrushes plus matching toothbrush covers.